Why do we fall for how "They" tell us to look?
GRAY HAIR – THE HEARTLESS DICTATOR *Clairol swiftly, surely, secretly eliminates the heartaches of gray or graying hair!
"Without justice or kindness, gray hair can rule your life. It can choose your clothes – confine you to a few subdued colors. It can pick your friends – from the "older set." It can dictate many things you say or do. No wonder other women refuse to tolerate this tyrant. They prefer to have young-looking hair…naturally with Clairol…" [1943 magazine ad for Clairol "shampoo tint"]
Talk about a hard sell! Gray hair = heartache, tyranny, "old" friends, rules your life, subdues your colors, heartless dictator.
No wonder we women thought about coloring our hair when it started turning gray or white!
I have been talking about how the Little White Lie journey is about more than just my hair color — it's about how we see ourselves and the decisions we make to feel beautiful, young, acceptable, etc. Whatever the "Little White Lie" is, it seems to have struck a chord with a lot of people, judging from the response I've been getting! I even got a shout out from the The Back Forty Fliers here: Going Gray? Here's How To Do It With Style!
It really got me to thinking about what messages we get from society about beauty, aging and gray hair, and I thought of my mother. As I shared in my earlier blog, her hair turned white when she was 30, and she never colored it! Surely she had grown up with those same high-pressure advertising messages. What was it like for her to be only 30 years old with white hair? Why did she choose NOT to change her hair color?
Well, the only way to find out was to go to the source.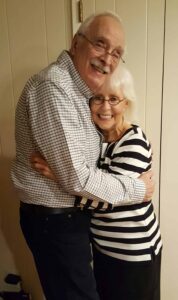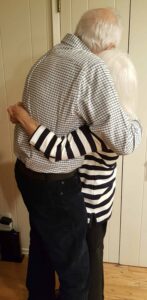 Off to LA I went to visit my parents. I took her aside one day to ask her these questions. I fully expected her to tell me about those ads to hide the gray and all the societal messages that 'oppressed' graying women; how hard it was for her.
Was I surprised! No such tales! Here's what she told me:
"I had 4 kids to raise so I had no time to color my hair."
It was too expensive anyway, and she didn't know anyone else who colored their hair. She calls herself low-maintenance — she's always worn just eye liner and lipstick, and used the drugstore brand until they were discontinued.  As you can see in my featured photo, she's beautiful still!
My mom obviously has marched to the beat of her own drum – Clairol and friends have nothing on her!
What a revelation and inspiration to me (not to mention gratitude for her genes) – and challenged me with this:
Why do we do this to ourselves? Why not listen to the beat of our own drum?
Yes, we live in a youth-obsessed culture. We still see those Clairol-type messages all around us. But that doesn't mean we have to follow what "they" (whoever "they" are) says. Let's look at these women who have aged graciously and beautifully, embracing their natural shapes and wrinkles and rocking their gray…
Helen Mirren at 67
Nichelle Nichols (lt. Uhuru on Star Trek) at 84
Jamie Lee Curtis (58)
Judy Dench (83)
Grace Slick (remember Jefferson Airplane?) at 77….Just to name a few.
And I'd like to introduce you to Cindy Joseph, who, at the age of 49 was approached on the street by a casting agent to model for Dolce and Gabbana because of her natural, unapologetic look. That ignited her modeling career with Ford Models Inc., which still thrives today. She wears little makeup and rocks her natural silver hair. And she's built a thriving enterprise around being one's most beautiful, authentic, healthy self – called BOOM!
Check her website out under "My recommended products" on my Little White Lie website to find out more about her own journey and her "pro-age cosmetic line." I'll be talking more about hers and other products that will keep your white hair healthy and looking great, as well as makeup and clothing to keep you looking your natural, beautiful, aging-gracefully best!
I want to leave you with what Mom told me about why she embraces aging:
"It's going to happen whether you want it to or not."
Howdy, Caren Glasser
And it's OUR decision what drumbeat we're going to march to, not Clairol's or anyone else's.
What do you plan to do to follow the beat of your own drum this year? Make sure to comment on my most recent Facebook Live HERE:
One way is to get involved in this little movement – The Little White Lie! Post your comments below
Go check out my site: www.TheLittleWhiteLie.com and get my free guide: The 5 steps to uncovering your gray Infographic. You'll find it helpful no matter what your Little White Lie is.
For more information or to schedule a complimentary strategy session with Caren:
Latest posts by Caren Glasser
(see all)