At the Helm of a Successful Life: An interview with Captain Sandy Yawn
Many of you know that I was on Bravo's popular reality TV show Below Deck Mediterranean. Since then I've kept in touch with some of the crew which you can read about here. When I learned that this season's show was casting a new captain of the cruise ship — a woman — I jumped on the chance to chat with her for my Little White Lie community! The Little White Lie Movement is all about embracing life at any age. This means living a full, authentic life on your own terms, blazing your own trail. Well, I know you'll agree that Sandy Yawn, Below Deck Med's new captain, is a shining example of someone who is doing just that. You're in for a treat!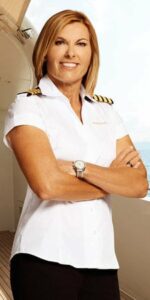 With over 27 years of leading yacht charters all over the world, Captain Sandy Yawn is one of a handful of female captains in the yachting industry. She has weathered it all, from being chased down by pirates to containing major fires on board. She's survived a life-threatening motorcyle accident, and even cancer. Her undeniable resilience and brilliance have helped move her to the top of the industry. Yet I think you'll find her also to be a humble, thoughtful, visionary person who is passionate about giving back and having fun!
Where did it all start, and what was the journey like going through the ranks to become a ship captain?
A Florida native, Sandy always loved playing in and on the water, including tubing on a huge truck tire tube! Her family loves fishing. "So I guess it's safe to say…It's in my blood!" From a part-time job washing boats at 13, Sandy went through the ranks and training to become a yacht captain in an industry dominated by males. Along the way she had her moments of that "normal human experience" of questioning: Can I do this? Will people take me seriously? Will I be able to manage it all? Sandy says: "When I had thoughts like that pop into my mind, I would put my headphones on and tune into a badass song! That's all it took for me — Music adds fire to my soul!" What a great tip!
Sandy sees her unusual and visible position as a woman in a 'man's world' as an opportunity to be her best self and to inspire others.
For her it's not about gender, it's about humility. "Women can do anything they put their mind to, which means if they need to ask for help from a male colleague, then do so." There's no place in her life for folding under preconceived ideas of what a woman can or cannot do! I'm sure this is a another big reason why Captain Sandy Yawn has reached the top of her industry and is so highly respected by her peers.
A big believer in mentoring, Sandy appreciates her own mentor, John Flynn, for teaching her about the business aspects of the Maritime Industry — and to "always have a fun factor." He is an inspiration for her to be the same kind of mentor for others. "It's now my time to inspire other young ladies to jump in and say YES to taking a risk. It's so worth it! If you fall short don't give up, just pick yourself up, brush yourself off and go for it again."
How did the Below Deck Mediterranean' opportunity come about?
"A friend suggested it and I thought, why not?" Sandy had been going through a difficult period of having to let go of a dream business venture, so this seemed like an opportunity to follow her own advice and "pick herself up, brush herself off," and try something new. She says it's been a lot of fun so far. And, for Captain Sandy, "it's about growing a different kind of brand, one that is about me and what I stand for. I want to help other women make their way to the bridge or other careers in the Maritime Industry."
What's in her future – dreams and goals? What 'floats her boat?' (yes, I asked her that – corny, right?)
Sandy would love to come back on another season of Below Deck Med, "because I love having the opportunity to reach and inspire the masses." And what a great way to have fun while doing what she does best — something I'd say we all aspire to, right?
Sandy also serves on the advisory council for Seakeepers.org, because she's passionate about helping to take care of the one thing that has allowed her to enjoy her career as a yacht captain – our oceans and seas! "Let's be mindful of what we do to our reefs, over-fishing and … I could go on and on with this one!"
Her dream? To help her sister (Michelle Dunham) build a new campus for her nonprofit k-12 school, Jacksonville School for Autism. Sandy got Inspired watching her sister leave her corporate career to found a school for her son who'd been diagnosed with Autism. Starting with '2 students, 1 teacher and a lot of faith,' the school has outgrown their current space, and Sandy is active raising funds for a new 22,000-sq.-ft. facility.
"What floats my boat is MUSIC, and enjoying family and friends!" enthuses Sandy. Sounds like a recipe for a great life to me!
Sandy, what would you like to share with our readers about showing up fully as a woman and a leader?
Sandy has some wonderful advice for us…
I would start with asking, 'what are you passionate about?'
Once you figure that part out, just take it one day at a time. Set the goal and build a small business plan-of-action for your own path to take.
When you find pushback, don't push back or muscle up; just find a way to navigate through it.
Surround yourself with like-minded people — Join (or start yourself) a group of women who can help propel you to your ultimate goal.
Most importantly, give back to the communities or families that are in need. It's not always about money. Most often it's about one's time.
Listen up, Little White Liars! This is great advice from a woman who definitely walks her talk.
And I know you won't want to miss Captain Sandy Yawn on "Below Deck Mediterranean" which premieres Tuesday, May 2nd, at 9PM ET on Bravo. Check it out.
Thank you so much, Captain Sandy Yawn, for sharing yourself so thoughtfully and generously with us – wishing you every success!
So ….Little White Liars, are you inspired? How? Share with us what floats YOUR boat, and how you plan to take that passion to the next level in your life? Get into the conversation and take part in the direction of TLWL Movement! Here's how:
1) Answer this question, or add your thoughts, in the comments below.
2) Take my survey now on www.TheLittleWhiteLie.com where you see the question: "What is your biggest concern about aging?"
3) Share your comments on Facebook and use the hashtag #LittleWhiteLie.
Latest posts by Caren Glasser
(see all)